Administration of FEZ "Vitebsk" Held Negotiation With the Polish Company FASING S.A.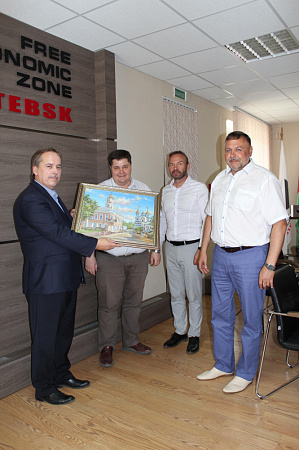 On June 14, 2019 Administration of FEZ "Vitebsk" held negotiations with one of the largest manufacturers of chains for mining industry in Central Europe and the world - FASIING S.A. The delegation was headed by the Chairman of the Board, General Director of FASING S.A. Zdzislaw Bik.
This was not the first time representatives of the Polish company visited the Administration of FEZ "Vitebsk". On May 16 of this year during the VIII International Economic Forum "Innovations. Investment. Prospects" Administration of FEZ "Vitebsk" and FASING Group signed a Memorandum of Understanding on implementation of an investment project to establish a production of metal chains, mining equipment and accessories for mining industry within FEZ "Vitebsk" territory.
The topic of the meeting was a detailed discussion of the terms of implementing the investment project. The Polish company also visited the land plot they chose for the implementation of this project.