Administration of FEZ "Vitebsk" on the Belarus-Latvia Forum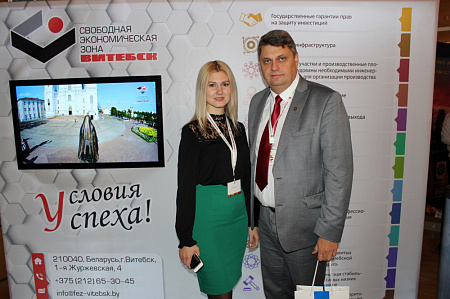 Administration of FEZ "Vitebsk" participated in a Forum dedicated to the Days of Latvia in Vitebsk that took place on November 29, 2018 in Vitebsk.
The forum was organized to facilitate trade, economic, scientific, technical and humanitarian cooperation between Belarus and Latvia as well as establish new business contacts between companies of the two countries.
One of the sections of the Belarus-Latvia Business Forum was "The Prospects of Cooperation in Construction, Energy, Production, Transport and Logistics" which allowed the representatives of the Administration of FEZ "Vitebsk" to share their experience in regards to attracting foreign investment and implementing investment projects while applying FEZ "Vitebsk" preferential treatment as well as to discuss the pros of the free economic zone "Vitebsk" including its benefitial geographical position, developed infrastructure and an array of benefits for foreign investors.
For reference.
As of the third quarter of 2018 the bilateral trade between FEZ "Vitebsk" resident companies and economic entities of Latvia amounts to 24 mln USD - more than a third of the trade between Latvia and the whole Vitebsk Region.
Those that are involved in import and export with Latvia include: "BelGigaSint" LLC, "PA "Energocomplekt" LLC, "Vityas" JSC, "MODERN-EXPO" LLC, "Aliansplast" LLC and "Orsha Linen Mill" RUPTE.